Gemstone Report
Php

4000
Gemcamp Laboratories Group

,

88, Capitol Hills Dr.

,

Quezon City

,

Metro Manila

,

Philippines

www.gemcamp.org

Our professional GIA graduate gemologist will issue you a printed official lab report from the Gemcamp Laboratory, encompassing the identity (including any treatment indication) of your gemstone, as well a summary of its quality characteristics.
Access to a G.I.A., G.G. for gemological support questions
Batch or sample grading for melee sizes available upon request
State-of-the-art laboratory instruments imported from the U.S. and Germany
Verbal delivery of identification results (no printed report) will cost 2,000 Php only
View Our Office Hours & Schedule

The laboratory is open from 9am to 6pm on weekdays.
Holiday sessions can be scheduled, given special arrangements.
Weekend appointments can be made, provided we are given a 3-day lead time.
"For centuries, people have sought out precious gemstones to keep as treasures of value. Be sure about your gems, about what they are and about how much they're worth.
Gemstone Grading Regulations

The Gemcamp Laboratory strictly follows the original color and clarity grading system devised formally by the Gemological Institute of America. Each individual gem must undergo a precision-based examination of the four common quality factors, namely: color, clarity, cut and carat weight, as well as a measurement evaluation to determine proportions. It should be noted that every aspect of your gemstone will be observed and graded before our gemologists do a cumulative evaluation of quality.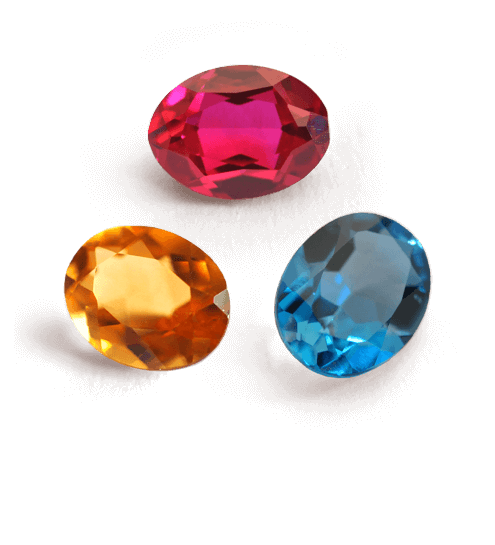 A professional look into the heart of your gemstone.
LEARN THE VALUE OF YOUR PURCHASE.
Using gemological knowledge with laboratory-grade instrumentation and trade experience, we can provide you with a deeper understanding of your precious items and how they stand in the jewellery industry today.
Gemstones & Qualities
LEARN ABOUT GEM CHARACTERISTICS
Gemstones make up the tiniest portion of the earth's landmass, and yet their values can often surpass those of much larger asset properties like structures and home estates.
Have a visit to our laboratory and learn more about how gemstones are identified, graded and valued in today's modern markets.
View our full list of services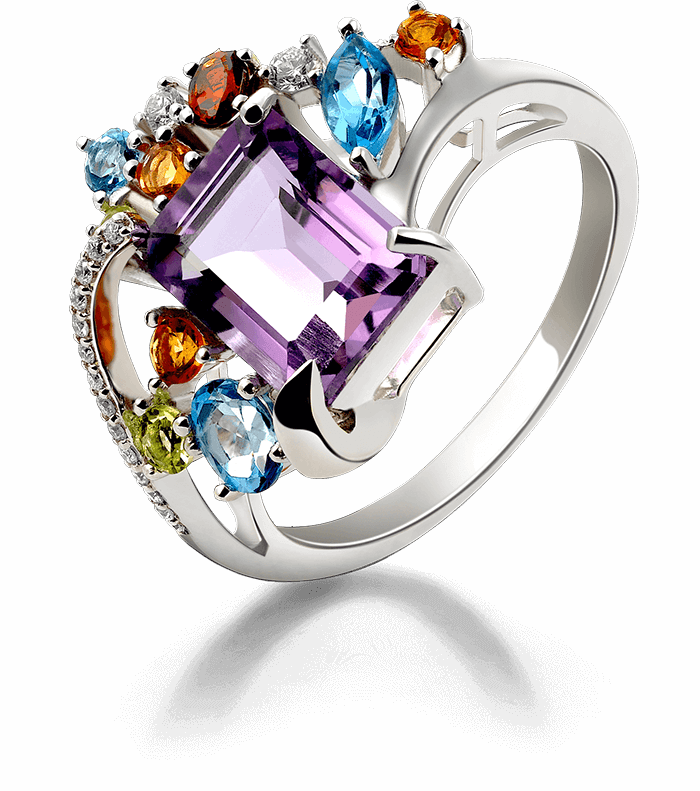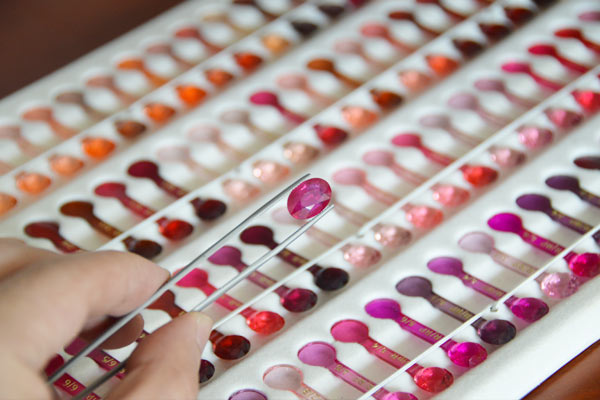 Hue, Tone & Saturation
How do you classify a gemstone's bodycolor?
Our laboratory notes the dominant and modifying hue of your stone, and then examines it for specific tone and saturation levels.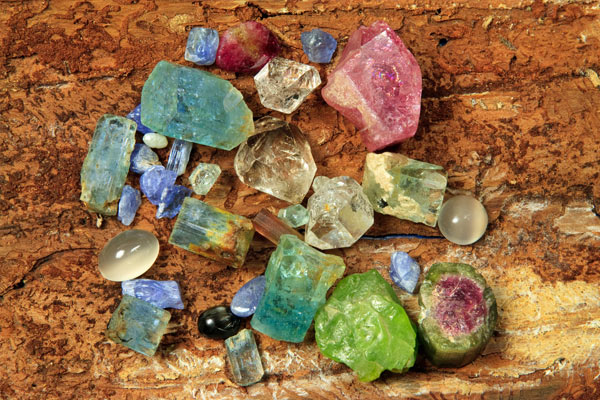 Species & Variety Check
Scientifically validate the identity of your precious gem
Gem species and variety identification is one of our premier services. We also check if your gemstone has any indication of post-cutting treatments.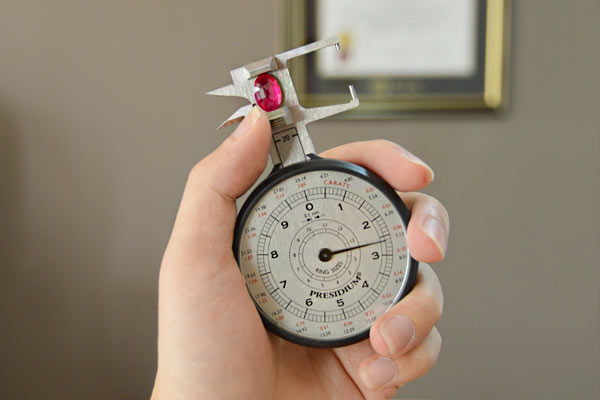 Full Gemological Support
Resources of gemological education at your fingertips
Any questions you might have will be answered by our resident GIA G.G., who will be happy to explain your stone's unique characteristics.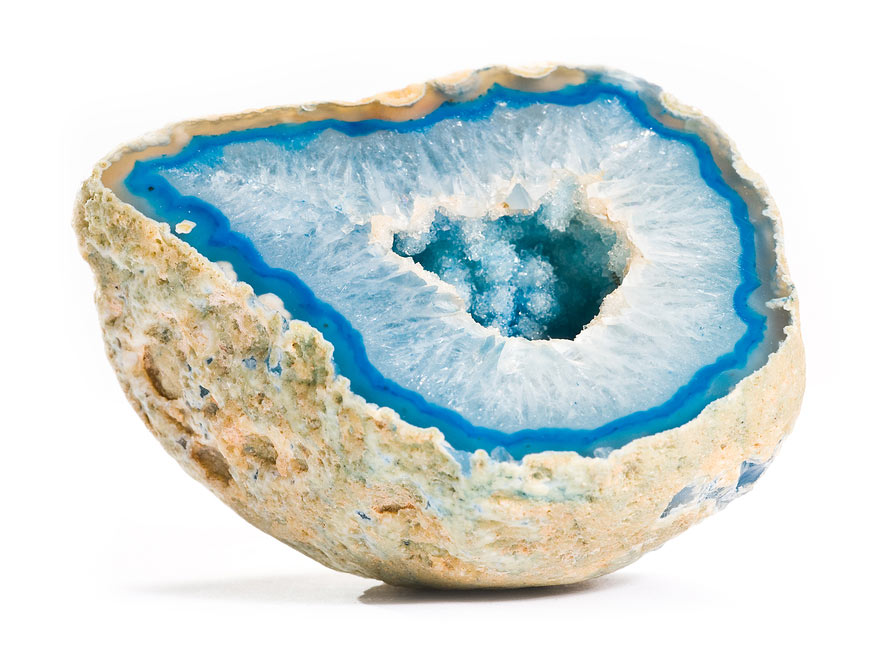 by
Let's start with the basics.
How Does the Laboratory Identify and Grade Gemstones?
Each gemstone species has a set of observable characteristics that our gemologists are trained to observe. These include a gem's refractive index, pleochroism, optic character and spectral pattern. The capability of certain instruments to view or measure these properties, coupled with the knowledge of their proper interpretation is what makes a gemologist effective at his trade.
Here at the Gemcamp Laboratories, we have your stone checked only by gemologists of formal certification from the Gemological Institute of America, who have achieved additional recognition in the form of an international scholarship, trade award or special mention from the industry.
A LOOK AT OUR GEM CERTIFICATION SERVICE
While we do offer a verbal-result identification service for a more affordable rate, our main specialisation is the official lab certification service for colored gemstones. This printed report is accomplished using a step-by-step procedure utilising the required lab equipment, research material and trade expertise needed for any certain stone. Once a client has successfully submitted a gemstone to our laboratory, we then proceed with the first phase in the series: understanding its identity.
Every gemstone belongs to a certain species, and occasionally a specific variety of that species. Ruby for example, belongs to the species called 'corundum', and the term 'ruby' actually refers to the red variety of this species. Often times trade labels can confuse buyers about the identity of their stone, but we here at the laboratory base our results on existing gemological standards and information, which is grounded in scientific framework. It is imperative that each stone passing through our laboratory receives an identification opinion first before any formal or informal appraisal of value can be made.
Once the identity issue is resolved, our in-house gemologist will then also look for any indication of enhancing treatments left by gem processors. These are very important as their presence deeply affects any kind of valuation for the gem material. Many stones in the trade undergo some form of treatment to improve their apparent color or clarity, however buyers are not always informed by the seller as to whether or not their items have undergone enhancements. We provide a closer understanding of how a gemstone might have been treated for improvement, as well as explain the common procedures and information associated with certain treatments.

After the first phase is complete, we can then grade stones for color. This involves measuring a gemstone's bodycolor (also called hue), along with its tone level (darkness or lightness) and saturation level (intensity or purity of color). All of these visual traits contribute to the valuation of a gemstone in the market. More desirable hues with stronger saturations often rank higher in the trade, compared to the commercial-grade stones that may seem duller in comparison.
We must also take a look at the gem's clarity level. While most colored gemstones are actually expected to possess some inclusions, generally speaking the clearer ones tend to price higher than others. This is often the case, except for some gemstone varieties that may have special considerations or optical phenomena which require the presence of inclusions to appeal more to connoisseurs.
Color and clarity are quality factors that define a huge portion of a stone's valuation, but an exceptional stone's price can be multiplied exponentially if another factor called 'carat weight' is in the higher ranges. We speak of carat weight strictly as weight, where one carat is equal to 1/5th of a gram. The trade often links carat weight to dimensional measurements (overall size), but this is not a hundred percent accurate due to cutting variations. In any case, we make sure to verify a gemstone's carat weight using our trade scale. The final weight can at furthest be rounded off to the hundredth of a carat, as is the usual practice in our industry.

Once the three quality aspects have been measured, we can also do an assessment of cutting grade or cutting style. Many colored gemstones are usually fashioned as mixed-cuts to save weight, but sometimes we see appeal variations that must be noted to the buyer. One common example would be a bulging pavilion, often done to keep extra weight on the gemstone so that a vendor can charge a higher price for it. This does not increase the face-up measurements of the stone and can sometimes even darken its apparent color. Buyers who know more about these trade practices can make better purchasing decisions in the future.
Stone grading and identification can take anywhere from a few minutes to a couple of hours per gem. Some clients prefer to wait at the lab and engage our gemologist in relevant conversation regarding their item. Others may opt to leave the stones and come back at a later date, however this action requires them to sign a waiver for the stone's custody- pertaining to the fact that there is no pre-determined identity, grade or valuation for the gemstone at the time of submission. The waiver is important for the protection of both the gemologist and the client, so that any inconveniences can be minimized.
Appraisal opinion can also be requested, although on a per-stone basis only. This is not an official service, and is based solely on opinion. The philippine market, jewelry stores and pawnshop enterprises will make use of their own proprietary systems of valuation which may differ from one another's, as well as from our own.
Any appraisal opinion requested from or given by the Gemcamp Laboratory, is based on wholesale prices at the international level- specifically with data gathered from the annual Hong Kong jewelry shows, which are the largest gatherings of the trade worldwide. This information, combined with existing records, pricing knowledge and trade experience constitutes our opinion on all appraisal values. Any valuation opinion given is strictly informal, and our laboratory does not in any way guarantee, take responsibility for, or endorse this data.
LIMITATIONS AND SUMMARY
The Gemcamp Laboratory provides you with a professional opinion regarding the identity, grade and appraisal value of your stone, utilising the most advanced techniques, equipment and resources available to our institution at the time of stone submission. We can only provide laboratory services for clients at our current rates of convenience, due to the important liability conditions listed on our reports, which also apply to any verbal results issued for client items. While this may be the case, our conditions are competent and consistent with many of the international laboratories in the trade. Ours is a service that strives to inform and disclose gemological information with the highest degree of accuracy and data transparency applicable.
The laboratory is an independent gemological facility, unaffiliated with any gemstone or jewellery vendors.
For grading terminology, we closely follow the original standards set by the Gemological Institute of America.
Our professional services are open to all, at personal convenient rates with terms and conditions applicable.
"Natural gemstones are very rare, especially in their exceptional qualities. Such scarcity meets with the current industry demand and thus creates value. It is always of utmost importance to know exactly what type of item you are investing your resources in."
The role of gemological laboratories is to guide the consumer in the path of identifying, verifying and grading the unique material that he or she has purchased. It is our mantra that fair trade and proper disclosure be pursued by all who do business in this very rewarding industry.
Gemstone Quality Aspects
Here are some things to consider
when purchasing a gemstone.
Color
Gemstones other than diamond are usually valued very highly on color, which is comprised of hue, tone and saturation.
Clarity
It's completely normal for gems to have some presence of inclusions. These can actually help identify a certain gem as natural.
Cut
The cutting options for most colored gemstones usually take weight-saving gains into consideration.
Carat Weight
Gem price-per-carat rates increase with larger sizes and heavier weights. This is primarily due to the issue of rarity versus demand.
Every stone is carefully handled with skill and precision throughout our process.
Upon arrival at the lab, here is a step-by-step walkthrough.
1. Take In Period
Once you've arrived at the Gemcamp Laboratory, have a chat with our in-house gemologist on the type of report or consultation you would like for your stone. Afterwards, a simple take-in form can be filled out before we begin our evaluation.
2. Scientific Observation
Each gem grading or identification job requires a suite of instrument tests to be performed. Not all submissions will incur the exact same set of tests, but several mandatory procedures will be conducted, and their results observed and recorded.
3. Gemological Analysis
Upon acquisition of data, our certified graduate gemologist will then analyse the test results individually and then cumulatively to obtain the lab verdict for the grade / identity of the submitted gemstone material.
4. Report and Verification
Whether you request a verbal or written report, our gemologist will provide you with the verdict dutifully. Before doing so though, he will return your gemstone along with a form to confirm its release.
Contact Us
Get in touch with a Gemologist.
Please contact our on-call gemological staff for a thorough assessment of your important gem-related needs.
(Text Inquiries Only)
0917 8382788
88 Capitol Hills Drive
Brgy. Old Balara, Quezon City

Discover More Today.
Become a Gemstone Connoisseur.
Here at the Gemcamp Laboratory, feel free to ask and chat with us about anything gemstone-related. Whether you would like to know more about the current trade events or possibly compare the grading differences between foreign laboratories, our friendly gemologists are always happy to help you learn and grow as a true gemstone connoisseur.
"The finest rubies can command higher prices than even most D-flawless diamonds."

RUBY TRIVIA & FACTS

"Gemology is a science that combines the study of light optics and mineralogy with compositional chemistry."

THE MOST BEAUTIFUL PAGE OF SCIENCE

"The Gemcamp Lab is an independent institute unaffiliated with any jewellery retailer. We grade and identify a gemstone for the purpose of true and full disclosure.

GEMCAMP FOUNDING MEMBERS
Have Our Philippine Gemologists Examine and Identify Your Gemstones.
Send us a message on facebook and a representative from Gemcamp Laboratories will contact you soon.
We can procure weekend appointments if provided with a three-day lead time. Please visit our
FAQ Corner
for any additional information